Gyuris A et al.
Physical and molecular landscapes of mouse glioma extracellular vesicles define heterogeneity.
Cell Rep (2019) 27:3972-3987.e6.

Das S et al.
The Extracellular RNA Communication Consortium: Establishing foundational knowledge and technologies for extracellular RNA research.
Murillo OD et al.
exRNA Atlas analysis reveals distinct extracellular RNA Cargo types and their carriers present across human biofluids.
Bach DH, Lee SK & Sood AK.
Mol Ther Nucleic Acids (2019) 16:118-129.

Godoy PM et al.
Large differences in small RNA composition between human biofluids.
Bei Y et al.
Circular RNAs as potential theranostics in the cardiovascular system.
Mol Ther Nucleic Acids (2018) 13:407-418.

Regev K et al.
Identification of MS-specific serum miRNAs in an international multicenter study.
Neurol Neuroimmunol Neuroinflamm (2018) 5:e491.

Raffai RL.
MicroRNA-146a and hematopoiesis: Friend or foe in atherosclerosis.
Noncoding RNA Investig (2018) 2:43.

Dragomir M & Calin GA.
Circular RNAs in cancer – Lessons learned from microRNAs.
Dluzen DF et al.
Extracellular RNA profiles with human age.
Danielson KM et al.
Plasma circulating extracellular RNAs in Left Ventricular Remodeling post-Myocardial Infarction.
EBioMedicine (2018) 32:172-181.

He X et al.
Human tRNA-derived small RNAs modulate host-oral microbial interactions.
J Dent Res (2018) 97:1236-1243.

Vujic A et al.
Exercise induces new cardiomyocyte generation in the adult mammalian heart.
Bayraktar R, Van Roosbroeck K & Calin GA.
Cell-to-cell communication: microRNAs as hormones.
Mol Oncol (2017) 11:1673-1686.

Shah R et al.
Small RNA-seq during acute maximal exercise reveal RNAs involved in vascular inflammation and cardiometabolic health: Brief report.
Am J Physiol Heart Circ Physiol (2017) 313:H1162-H1167.

Nguyen TA et al.
SIDT2 transports extracellular dsRNA into the cytoplasm for innate immune recognition.
Immunity (2017) 47:498-509.e6.

Matsuda A et al.
MicroRNAs as paracrine signaling mediators in cancers and metabolic diseases.
Best Pract Res Clin Endocrinol Metab (2016) 30:577-590.

Paladini L et al.
Targeting microRNAs as key modulators of tumor immune response.
J Exp Clin Cancer Res (2016) 35:103.

Fritz JV et al.
Sources and functions of extracellular small RNAs in human circulation.
Annu Rev Nutr (2016) 36:301-36.

Wu SY et al.
A miR-192-EGR1-HOXB9 regulatory network controls the angiogenic switch in cancer.
Rupaimoole R et al.
Hypoxia-upregulated microRNA-630 targets Dicer, leading to increased tumor progression.
Oncogene (2016) 35:4312-20. Related blog post

Rupaimoole R et al.
Long noncoding RNA ceruloplasmin promotes cancer growth by altering glycolysis.
Giza DE & Calin GA
microRNA and Chronic Lymphocytic Leukemia.
Adv Exp Med Biol (2015) 889:23-40.

Shields BB et al.
A genome-scale screen reveals context-dependent ovarian cancer sensitivity to miRNA overexpression.
Mol Syst Biol (2015) 11:842.

Related Pathways: 1, 2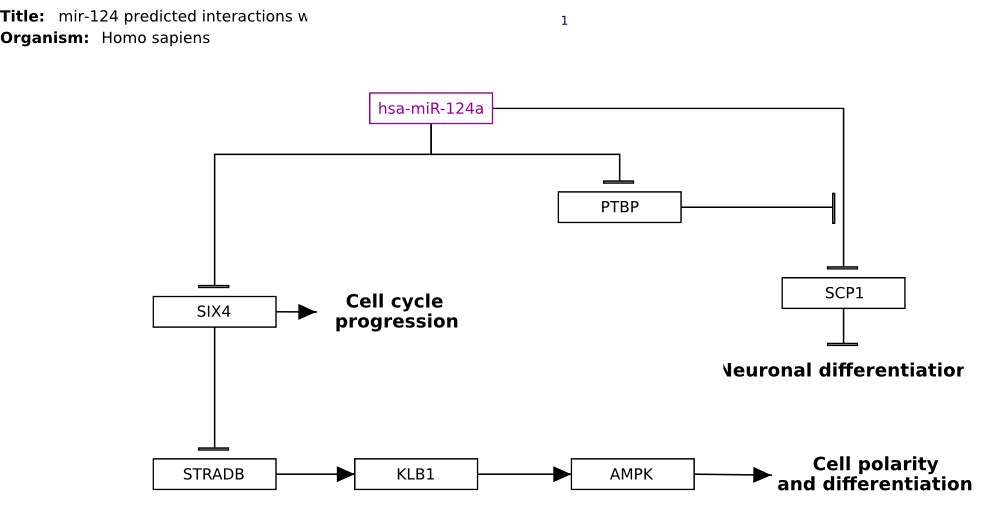 Ainsztein AM et al.
The NIH Extracellular RNA Communication Consortium.
J Extracell Vesicles (2015) 4:27493.

Patton JG et al.
Biogenesis, delivery, and function of extracellular RNA.
J Extracell Vesicles (2015) 4:27494.

Pua HH & Ansel KM.
MicroRNA regulation of allergic inflammation and asthma.
Curr Opin Immunol (2015) 36:101-8.

Pichler M & Calin GA.
MicroRNAs in cancer: From developmental genes in worms to their clinical application in patients.
Br J Cancer (2015) 113:569-73.

Simpson LJ & Ansel KM.
MicroRNA regulation of lymphocyte tolerance and autoimmunity.
J Clin Invest (2015) 125:2242-9.

Berindan-Neagoe I & Calin GA.
Molecular pathways: microRNAs, cancer cells, and microenvironment.
Clin Cancer Res (2014) 20:6247-53.

Rupaimoole R et al.
Hypoxia-mediated downregulation of miRNA biogenesis promotes tumour progression.
Krzeszinski JY et al.
MiR-34a blocks osteoporosis and bone metastasis by inhibiting osteoclastogenesis and Tgif2.
Nature (2014) 512:431-5.

Related Pathway

Takahashi K et al.
Long noncoding RNA in liver diseases.
Hepatology (2014) 60:744-53.

Related Pathway

Takahashi K et al.
Modulation of hypoxia-signaling pathways by extracellular linc-RoR.
J Cell Sci (2014) 127:1585-94.

Clancy L & Freedman JE.
New paradigms in thrombosis: Novel mediators and biomarkers platelet RNA transfer.