Martin-Jaular L et al.
Unbiased proteomic profiling of host cell extracellular vesicle composition and dynamics upon HIV-1 infection.
Saheera S et al & .
Extracellular vesicle interplay in cardiovascular pathophysiology.
Am J Physiol Heart Circ Physiol AOP 2021-03-05.

Ma S et al.
Gain-of-function p53 protein transferred via small extracellular vesicles promotes conversion of fibroblasts to a cancer-associated phenotype.
Silverman DA et al.
Cancer-associated neurogenesis and nerve-cancer cross-talk.
Cancer Res (2021) 81:1431-1440.

Nieland L et al.
Extracellular vesicle-mediated bilateral communication between glioblastoma and astrocytes.
Trends Neurosci (2021) 44:215-226.

Anfossi S & Calin GA.
Gut microbiota: a new player in regulating immune- and chemo-therapy efficacy.
Cancer Drug Resist (2020) 3:356-370.

Zhang Q et al.
Angiotensin-converting Enzyme 2-containing small extracellular vesicles and exomeres bind the Severe Acute Respiratory Syndrome Coronavirus 2 spike protein.
Gastroenterology (2021) 160:958-961.e3.

Drula R et al.
MicroRNAs from liquid biopsy derived extracellular vesicles: Recent advances in detection and characterization methods.
Cancers (Basel) (2020) 12:2009.

Bouchareychas L et al.
Macrophage exosomes resolve atherosclerosis by regulating hematopoiesis and inflammation via microRNA cargo.
Koupenova M & Freedman JE.
Platelets and immunity: Going viral.
Arterioscler Thromb Vasc Biol (2020) 40:1605-1607.

Sung BH et al.
A live cell reporter of exosome secretion and uptake reveals pathfinding behavior of migrating cells.
Yekula A et al.
Extracellular vesicles in glioblastoma tumor microenvironment.
Perez PS et al.
Extracellular vesicles and chronic inflammation during HIV infection.
J Extracell Vesicles (2019) 8:1687275.

Gambaro F et al.
Stable tRNA halves can be sorted into extracellular vesicles and delivered to recipient cells in a concentration-dependent manner.
Kalra H et al.
Extracellular vesicles containing oncogenic mutant beta-catenin activate Wnt signalling pathway in the recipient cells.
J Extracell Vesicles (2019) 8:1690217.

Yokoi A et al.
Mechanisms of nuclear content loading to exosomes.
Russell AE et al.
Biological membranes in EV biogenesis, stability, uptake, and cargo transfer: an ISEV position paper arising from the ISEV membranes and EVs workshop.
J Extracell Vesicles (2019) 8:1684862.

Zaborowski MP et al.
Membrane-bound Gaussia luciferase as a tool to track shedding of membrane proteins from the surface of extracellular vesicles.
Sundaram K et al.
Plant-derived exosomal nanoparticles inhibit pathogenicity of Porphyromonas gingivalis.
Pusic KM et al.
IFNgamma-stimulated dendritic cell exosomes for treatment of migraine modeled using spreading depression.
Kanada M et al.
Microvesicle-mediated delivery of minicircle DNA results in effective gene-directed enzyme prodrug cancer therapy.
Mol Cancer Ther (2019) 18:2331-2342.

Gyuris A et al.
Physical and molecular landscapes of mouse glioma extracellular vesicles define heterogeneity.
Cell Rep (2019) 27:3972-3987.e6.

Pegtel DM & Gould SJ.
Annu Rev Biochem (2019) 88:487-514.

Haraszti RA et al.
Serum deprivation of Mesenchymal Stem Cells improves exosome activity and alters lipid and protein composition.
Bruno S et al.
Role of extracellular vesicles in stem cell biology.
Am J Physiol Cell Physiol (2019) 317:C303-C313.

Poggio M et al.
Suppression of exosomal PD-L1 induces systemic anti-tumor immunity and memory.
Jeppesen DK et al.
Reassessment of exosome composition.
Murillo OD et al.
exRNA Atlas analysis reveals distinct extracellular RNA Cargo types and their carriers present across human biofluids.
Roy S et al.
Navigating the landscape of tumor extracellular vesicle heterogeneity.
Jimenez L et al.
Quantitative proteomic analysis of small and large extracellular vesicles (EVs) reveals enrichment of adhesion proteins in small EVs.
J Proteome Res (2019) 18:947-959.

Shah R, Patel T & Freedman JE.
Circulating extracellular vesicles in human disease.
N Engl J Med (2018) 379:2180-2181.

Haraszti RA et al.
Exosomes produced from 3D Cultures of MSCs by Tangential Flow Filtration show higher yield and improved activity.
Gustafsson G et al.
Secretion and uptake of alpha-synuclein via extracellular vesicles in cultured cells.
Cell Mol Neurobiol (2018) 38:1539-1550.

Moirangthem A & Patel T.
Mesenchymal stem cell derived extracellular vesicles: a promising new therapeutic approach for hepatic injury.
Broekman ML et al.
Multidimensional communication in the microenvirons of glioblastoma.
Nat Rev Neurol (2018) 14:482-495.

Sung BH & Weaver AM.
Directed migration: Cells navigate by extracellular vesicles.
J Cell Biol (2018) 217:2613-2614.

Zhang Q et al.
Mutant KRAS exosomes alter the metabolic state of recipient colonic epithelial cells.
Cell Mol Gastroenterol Hepatol (2018) 5:627-629.e6.

Haemmerle M et al.
The platelet lifeline to cancer: Challenges and opportunities.
Cancer Cell (2018) 33:965-983.

Ricklefs FL et al.
Immune evasion mediated by PD-L1 on glioblastoma-derived extracellular vesicles.
Roy S, Hochberg FH & Jones PS.
Extracellular vesicles: the growth as diagnostics and therapeutics; a survey.
J Extracell Vesicles (2018) 7:1438720.

Lankford KL et al.
Intravenously delivered mesenchymal stem cell-derived exosomes target M2-type macrophages in the injured spinal cord.
Nonaka T & Wong DTW.
Saliva exosomics in cancer: Molecular characterization of cancer-derived exosomes in saliva.
Figueroa J et al.
Exosomes from glioma-associated mesenchymal stem cells increase the tumorigenicity of glioma stem-like cells via transfer of miR-1587.
Cancer Res (2017) 77:5808-5819.

Datta A et al.
Manumycin A suppresses exosome biogenesis and secretion via targeted inhibition of Ras/Raf/ERK1/2 signaling and hnRNP H1 in castration-resistant prostate cancer cells.
Cancer Lett (2017) 408:73-81.

Related Pathway

Bei Y et al.
Exercise-induced circulating extracellular vesicles protect against cardiac ischemia-reperfusion injury.
Basic Res Cardiol (2017) 112:38.

Silva AM et al.
Dendritic cell-derived extracellular vesicles mediate mesenchymal stem/stromal cell recruitment.
Bruno S et al.
Renal regenerative potential of different extracellular vesicle populations derived from bone marrow mesenchymal stromal cells.
Tissue Eng Part A (2017) 23:1262-1273.

Rashed MH et al.
Exosomal miR-940 maintains SRC-mediated oncogenic activity in cancer cells: a possible role for exosomal disposal of tumor suppressor miRNAs.
Oncotarget (2017) 8:20145-20164.

Haga H et al.
Extracellular vesicles from bone marrow-derived mesenchymal stem cells protect against murine hepatic ischemia/reperfusion injury.
Liver Transpl (2017) 23:791-803.

Deng Z et al.
Broccoli-derived nanoparticle inhibits mouse colitis by activating dendritic cell AMP-activated protein kinase.
Clancy L et al.
The role of RNA uptake in platelet heterogeneity.
Thromb Haemost (2017) 117:948-961.

Teng Y et al.
MVP-mediated exosomal sorting of miR-193a promotes colon cancer progression.
Collino F et al.
Exosome and microvesicle-enriched fractions isolated from mesenchymal stem cells by gradient separation showed different molecular signatures and functions on renal tubular epithelial cells.
Stem Cell Rev (2017) 13:226-243.

Maji S et al.
Extracellular vesicles in liver diseases.
Am J Physiol Gastrointest Liver Physiol (2017) 312:G194-G200.

Maas SL, Breakefield XO & Weaver AM.
Extracellular vesicles: Unique intercellular delivery vehicles.
Trends Cell Biol (2017) 27:172-188.

Katsiougiannis S et al.
Saliva exosomes from pancreatic tumor-bearing mice modulate NK cell phenotype and antitumor cytotoxicity.
Haraszti RA et al.
High-resolution proteomic and lipidomic analysis of exosomes and microvesicles from different cell sources.
J Extracell Vesicles (2016) 5:32570.

Nazimek K, Bryniarski K & Askenase PW.
Functions of exosomes and microbial extracellular vesicles in allergy and contact and delayed-type hypersensitivity.
Int Arch Allergy Immunol (2016) 171:1-26.

Kanlikilicer P et al.
Ubiquitous release of exosomal tumor suppressor miR-6126 from ovarian cancer cells.
Cancer Res (2016) 76:7194-7207.

Deng Z et al.
Exosomes miR-126a released from MDSC induced by DOX treatment promotes lung metastasis.
Wang JQ et al.
Extracellular vesicle-mediated reversal of paclitaxel resistance in prostate cancer.
Crit Rev Oncog (2015) 20:407-17.

Soares VY et al.
Extracellular vesicles derived from human vestibular schwannomas associated with poor hearing damage cochlear cells.
Neuro Oncol (2016) 18:1498-1507.

Zhang HG et al.
Isolation, identification, and characterization of novel nanovesicles.
Oncotarget (2016) 7:41346-41362.

McKenzie AJ et al.
KRAS-MEK signaling controls Ago2 sorting into exosomes.
Abels ER & Breakefield XO.
Introduction to extracellular vesicles: Biogenesis, RNA cargo selection, content, release, and uptake.
Cell Mol Neurobiol (2016) 36:301-12.

Zappulli V et al.
Extracellular vesicles and intercellular communication within the nervous system.
J Clin Invest (2016) 126:1198-207.

Teng Y et al.
Grapefruit-derived nanovectors deliver miR-18a for treatment of liver metastasis of colon cancer by induction of M1 macrophages.
Pusic KM, Pusic AD & Kraig RP.
Environmental enrichment stimulates immune cell secretion of exosomes that promote CNS myelination and may regulate inflammation.
Cell Mol Neurobiol (2016) 36:313-325.

Pucci F et al.
SCS macrophages suppress melanoma by restricting tumor-derived vesicle-B cell interactions.
Zhang X et al.
Potential transfer of polyglutamine and CAG-repeat RNA in extracellular vesicles in Huntington's disease: Background and evaluation in cell culture.
Cell Mol Neurobiol (2016) 36:459-70.

Iavello A et al.
Role of Alix in miRNA packaging during extracellular vesicle biogenesis.
Int J Mol Med (2016) 37:958-66.

Rupaimoole R et al.
miRNA deregulation in cancer cells and the tumor microenvironment.
Cancer Discov (2016) 6:235-46.

Clancy L & Freedman JE.
Blood-derived extracellular RNA and platelet pathobiology: Adding pieces to a complex circulating puzzle.
Machtinger R, Laurent LC & Baccarelli AA.
Extracellular vesicles: Roles in gamete maturation, fertilization and embryo implantation.
Hum Reprod Update (2016) 22:182-93.

Zhuang X et al.
Ginger-derived nanoparticles protect against alcohol-induced liver damage.
J Extracell Vesicles (2015) 4:28713.

van der Vos KE et al.
Directly visualized glioblastoma-derived extracellular vesicles transfer RNA to microglia/macrophages in the brain.
Quesenberry PJ et al.
Role of extracellular RNA-carrying vesicles in cell differentiation and reprogramming.
Stem Cell Res Ther (2015) 6:153.

Cha DJ et al.
KRAS-dependent sorting of miRNA to exosomes.
Pusic AD & Kraig RP.
Phasic treatment with Interferon gamma stimulates release of exosomes that protect against spreading depression.
J Interferon Cytokine Res (2015) 35:795-807.

Sung BH et al.
Directional cell movement through tissues is controlled by exosome secretion.
Bryniarski K et al.
Free extracellular miRNA functionally targets cells by transfecting exosomes from their companion cells.
Agarwal K et al.
Analysis of exosome release as a cellular response to MAPK pathway inhibition.
Deng Z et al.
Enterobacteria-secreted particles induce production of exosome-like S1P-containing particles by intestinal epithelium to drive Th17-mediated tumorigenesis.
Collino F et al.
AKI recovery induced by mesenchymal stromal cell-derived extracellular vesicles carrying microRNAs.
J Am Soc Nephrol (2015) 26:2349-60.

Gardiner C et al.
Extracellular vesicles, tissue factor, cancer and thrombosis – Discussion themes of the ISEV 2014 Educational Day.
J Extracell Vesicles (2015) 4:26901.

Tewari M.
A functional extracellular transcriptome in animals? Implications for biology, disease and medicine.
Kanada M et al.
Differential fates of biomolecules delivered to target cells via extracellular vesicles.
Proc Natl Acad Sci U S A (2015) 112:E1433-42.

Haga H et al.
Tumour cell-derived extracellular vesicles interact with mesenchymal stem cells to modulate the microenvironment and enhance cholangiocarcinoma growth.
J Extracell Vesicles (2015) 4:24900.

Srivastava A et al.
Exosomes: a role for naturally occurring nanovesicles in cancer growth, diagnosis and treatment.
Curr Gene Ther (2015) 15:182-92.

Bhattacharya S et al.
GAIP interacting protein C-terminus regulates autophagy and exosome biogenesis of pancreatic cancer through metabolic pathways.
Melo SA et al.
Cancer exosomes perform cell-independent microRNA biogenesis and promote tumorigenesis.
Danielson KM & Das S.
Extracellular vesicles in heart disease: Excitement for the future?
Exosomes Microvesicles (2014) 2:1.

Related Pathway

Rajendran L et al.
Emerging roles of extracellular vesicles in the nervous system.
Gangoda L et al.
Extracellular vesicles including exosomes are mediators of signal transduction: Are they protective or pathogenic?
Proteomics (2015) 15:260-71.

Related Pathway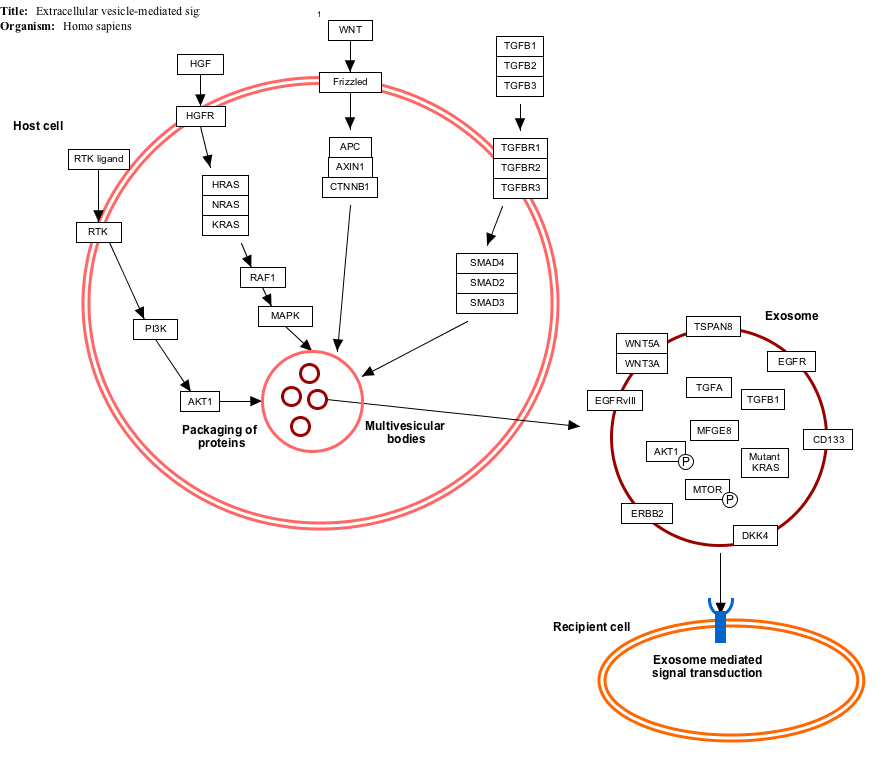 Kawikova I & Askenase PW.
Diagnostic and therapeutic potentials of exosomes in CNS diseases.
Godlewski J et al.
Belonging to a network–microRNAs, extracellular vesicles, and the glioblastoma microenvironment.
Braicu C et al.
Exosomes as divine messengers: Are they the Hermes of modern molecular oncology?
Cell Death Differ (2015) 22:34-45.

Saleem SN & Abdel-Mageed AB.
Tumor-derived exosomes in oncogenic reprogramming and cancer progression.
Cell Mol Life Sci (2015) 72:1-10.

Takahashi K et al.
Extracellular vesicle-mediated transfer of long non-coding RNA ROR modulates chemosensitivity in human hepatocellular cancer.
FEBS Open Bio (2014) 4:458-67.

Takahashi K et al.
Involvement of extracellular vesicle long non-coding RNA (linc-VLDLR) in tumor cell responses to chemotherapy.
Mol Cancer Res (2014) 12:1377-87.

Mu J et al.
Interspecies communication between plant and mouse gut host cells through edible plant derived exosome-like nanoparticles.
Mol Nutr Food Res (2014) 58:1561-73.

Redzic JS et al.
Extracellular RNA mediates and marks cancer progression.
Semin Cancer Biol (2014) 28:14-23.

Quesenberry PJ et al.
Marrow hematopoietic stem cells revisited: They exist in a continuum and are not defined by standard purification approaches; Then there are the microvesicles.
Abd Elmageed ZY et al.
Neoplastic reprogramming of patient-derived adipose stem cells by prostate cancer cell-associated exosomes.
Lindoso RS et al.
Extracellular vesicles released from mesenchymal stromal cells modulate miRNA in renal tubular cells and inhibit ATP depletion injury.
Stem Cells Dev (2014) 23:1809-19.

Grange C et al.
Biodistribution of mesenchymal stem cell-derived extracellular vesicles in a model of acute kidney injury monitored by optical imaging.
Int J Mol Med (2014) 33:1055-63.

Quesenberry PJ et al.
Cellular phenotype and extracellular vesicles: Basic and clinical considerations.
Stem Cells Dev (2014) 23:1429-36.

Zhaorigetu S et al.
Delivery of negatively charged liposomes into the atherosclerotic plaque of apolipoprotein E-deficient mouse aortic tissue.
J Liposome Res (2014) 24:182-90.

Lai CP et al.
Dynamic biodistribution of extracellular vesicles in vivo using a multimodal imaging reporter.
Panagopoulos K et al.
Reversal of chemosensitivity and induction of cell malignancy of a non-malignant prostate cancer cell line upon extracellular vesicle exposure.
Aliotta JM et al.
Induction of pulmonary hypertensive changes by extracellular vesicles from monocrotaline-treated mice.
Cardiovasc Res (2013) 100:354-62.

Deng ZB et al.
Exosome-like nanoparticles from intestinal mucosal cells carry prostaglandin E2 and suppress activation of liver NKT cells.
Akers JC et al.
Biogenesis of extracellular vesicles (EV): Exosomes, microvesicles, retrovirus-like vesicles, and apoptotic bodies.
Quesenberry PJ et al.
A new stem cell biology: the continuum and microvesicles.
Trans Am Clin Climatol Assoc (2012) 123:152-66.

Gonda DD et al.
Neuro-oncologic applications of exosomes, microvesicles, and other nano-sized extracellular particles.